Next to this CTA toolbox, a number of other toolboxes are online available that provide you with tools to consider the broader societal context of your research project. If you look for a different tool or a different scope, take a look at these toolboxes!
Collection of RRI tools
The RRI toolkit is developed as part of the European RRI tools project with the goal to stimulate the embedding of Responsible Research and Innovation in research, industry, education, society and politics. The toolkit contains a massive database with >1000 entries on RRI-related tools, projects, inspiring practices or library elements which can be filtered by a focus on ethics, gender equality, governance, open access, public engagement and science education. Additionally, the toolkit allows you to get in touch with one of the almost 2000 users of either a civil society organization, the educational community, someone from industry, policy makers or researchers. The RRI toolkit also provides guidelines to all user groups on how to apply RRI in daily practices as well as a self-reflection tool.
Toolkit for companies  
The PRISMA RRI toolkit has been developed in the frame of the European PRISMA project and aims to inform companies about available tools to incorporate RRI in their business. The toolkit summarizes 17 tools which are shortly described and characterized in terms of investment (mostly time), needed expertise and expected results. Additionally, the tools can be filtered by selecting three categories: areas of attention, purpose of the tool and place of application. The actual tools can be accessed via links to external pages which are mostly directly available while on some pages free registration is needed.
Safety for regulators and innovators
The Safe Innovation Approach (SIA) helps regulators and innovators to check safety and regulatory issues of nanomaterials and nano-enabled products. Innovators become more aware of uncertain risks from the early stage of the innovation onwards, and can therefore create safer and more cost-effective innovations. Regulators are better prepared for new innovations and ongoing technological developments in the field of nanotechnology. SIA is a combination of the Safe by Design concept and the Regulatory Preparedness concept and has been developed in the NanoReg2 project.  
The website of the SIA toolbox collects a variety of tools to estimate the risks of nanomaterials. The tools are applicable to various phases of the innovation process: Early phase (Potential), Midterm phase (Indicator) and Late phase (Demonstrator). Additionally, the tools are characterized by goals with an emphasis on the risks, costs, or benefits. After making a selection, a list of tools appears which is suitable to your situation.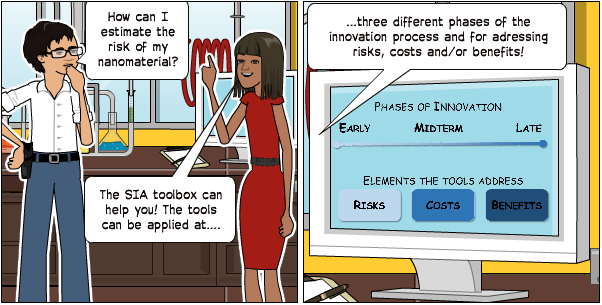 The promised benefits and outcomes of SIA include the reduced time required for R&D, innovators who are better prepared for future regulatory changes and more cost-effective innovations. For an additional explanation of the Safe Innovation Approach have a look at this short video:
Risks and safety of nanomaterials
Another toolbox for evaluating the risks and safety of nanomaterials is developed by the RIVM. The Nanotoolselector supports companies to become aware of possible health risks of nanomaterials for their employees. Around 40 tools are collected and characterized by availability, application, knowledge-level of the user, usability and quality. The description of the tools is in Dutch.
Interactive tools for researchers
iGEMers Guide to the Future is an interactive website with guidelines for students and researchers on how to integrate human practices to gain a deeper and broader understanding of the context of your innovation. The focus lies here on synthetic biology, but examples can be adapted for other disciplines as well. On the website you can pick different modules (users, business plan, societal impacts, risks / safety) while each module has 3 steps (analysis, interaction, future snapshots) and one insight section that brings all results together. The steps contain different tools with templates, practical descriptions and examples that can be applied directly.